Affordable, Premium SHSAT Course

EASY SHS CUT-OFF RULE OF THUMB
All SHS Excpept Stuy: 70%+
Stuyvesant: 84%
Many students and parents frequently ask, "Is this score good enough to make it to 'such and such' SHS?" Between the many SHSs and the scaled scoring, the answer seems confusing. It really isn't. Most SHS scaled cut-off scores fall into the same small range of raw scores: ≈70%+ correct. Stuyvesant separates itself materially from the pack. A raw score of 83-84%'s is generally required.
While these % raw cut-off  numbers have increased slightly under the new exam format, they vary only a small amount year to year and provide a good, simple benchmark for your training. How close are you to a 70% raw score?
The dysfunctional SHSAT prep process:
These cut-off scores also lead to SHSAT prep strategy implications that no tutor or workbook will tell you. Most parents behave as if the goal of SHSAT prep is a perfect score, and they will spend thousands of dollars and hundreds of hours of their child's time to achieve that score. However, there is no reward for a perfect score like there is for the SAT (college admission exam). Why behave as if there is? Would you pay the price of a Ferrari to get the same Honda as everyone else? In most cases, there are better strategies for your child and your pocketbook.
In case we didn't make it clear already, most parents and students spend too much time and money prepping for the SHSAT at one extreme (cheap workbooks from Amazon) or the other extreme (high-cost tutors). We offer an option in between to help you prepare effectively. With that extra time & money to spare, you can play a SHSAT game below. Have fun, study well,  and remember to enjoy your childhood!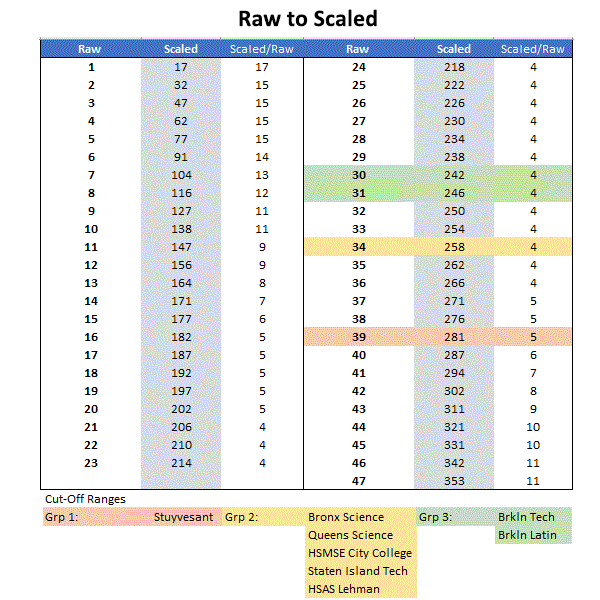 MATH VIDEO SOLUTIONS IN 1 MINUTE OR LESS
Please take me directly to the MATH VIDEO solutions.
Please take me directly to the SCRAMBLED PARAGRAPH VIDEO solutions.